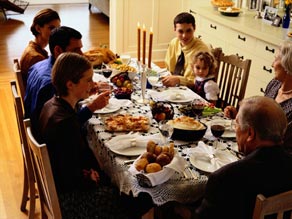 Thanksgiving is upon us. This is a time for families to come together, a time to count your blessings.
It is also a great time to find out who you can count on in your tribe, should SHTF. Do they have preps? Good. But more importantly, do they have skills? Networks? A plan??
I have been asking these questions with my family for a while now, and there are three common answers for those that think they are prepared:
I have guns, so we're ok
I have some extra food, so we're ok
Should it get that bad, we'll just get in the car and drive to ____
There are flaws with all of these, the major ones are PLANNING and COMMUNICATION. The time to figure out the details is not
after
the S hits the fan, but long
before
.
Use the coming family gatherings to build your tribe and build your network. While you are at it... you may want to mention
III Arms Company
and the
III Citadel
.
I'll let you go with this thought... If there is an "event" in your town,
TODAY
, what are you going to do?
The time for excuses is over, the time for action is now. Your family is depending on you.
For Our Posterity,
BonnieGadsden